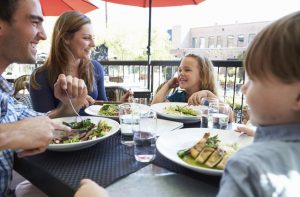 I think we all know that eating out while trying to eat healthy food and get those extra pounds off can be quite a challenge, but it doesn't have to be.  I am going to give you the lowest calorie, weight loss friendly options at all of your favorite Wellington spots so that the next time you search for "restaurants near me", you can find some healthy eats. Don't worry – they still taste great!
1. Applebee's
    1. 7oz House Sirloin – 270kcal: 15F/1C/34P
    2. 12oz New York Strip – 480kcal: 25F/1C/65P
    3. Napa Chicken & Portobellos – 500kcal: 16F/38C/50P
    4. Pepper-crusted Sirloin & Whole Grains – 350kcal: 10F/41C/28P
    5. Thai Shrimp Salad – 390kcal: 19F/33C/23P
Apple Bee's has something for everyone. They have an amazing selection with great low calorie and healthy food!
2. Bonefish Grill
    1. Ahi Tuna Sashimi (Regular) – 359kcal: 15F/17C/37P
    2. NY Strip Tataki – 351kcal: 18F/7C/28P
    3. Grilled Sea Scallops and Shrimp – 191kcal: 5F/4C/34P
    4. Grilled Tilapia – 334kcal: 13F/2C/57P
    5. Ahi Tuna Steak – 304kcal: 14F/3C/45P
    6. The Angler Steak (6oz) – 228kcal: 5F/3C/43P
    7. Filet Mignon (6oz) – 272kcal: 14F/0C/38P
Bonefish is a great higher option for those who are possibly going for a date night or a special event. This is a personal favorite of mine. I love the filet mignon and scallops!
3. California Pizza Kitchen
    1. Kids Grilled Chicken Breast w/ Broccoli – 240kcal: 6F/9C/39P
    2. Asparagus and Arugula Salad – 180kcal: 16F/10C/5P
    3. Bianco Flatbread – 380kcal: 15F/38C/18P
    4. Shaved Mushroom and Spinach Flatbread – 400kcal: 18F/40C/18P
    5. Shrimp Lettuce Wrap – 480kcal: 23F/40C/25P
    6. Lite Adventures Shrimp Scampi Zucchini Fettuccine – 470kcal: 24F/30C/27P
Who doesn't love California Pizza Kitchen? They have more than just pizza. Give some of these meals a try. I personally love the lettuce wraps and they are very low in calories.
4. Panera
    1. Bacon Turkey Bravo Sandwich on Tomato Basil (half) – 320kcal: 12F/29C/19P
    2. Frontega Chicken Panini on Focaccia (half) – 380kcal: 12F/40C/24P
    3. Classic Salad w/ Chicken (whole) – 300kcal: 13F/20C/27P
    6. Low-Fat Chicken Noodle Soup (bowl) – 160kcal: 5F/19C/14P
    5. Spicy Thai Chicken Salad (half) – 260kcal: 11F/21C/12P
    6. Ham, Egg & Cheese Power Sandwich (whole) – 340kcal: 15F/30C/23P
I am not sure what we ever did to deserve Panera, but it exists and – well – it is amazing. They have so many healthy food options and they all taste like heaven. I can't choose just one, so give them all a try!
5. Pei Wei
    1. Sweet and Sour Small with Chicken (steamed) – 290kcal: 3F/42C/24P
    2. Ginger Broccoli Regular with Chicken – 480kcal: 480kcal: 15F/42C/43P
    3. Original Asian Chopped Chicken Salad – 470kcal: 16F/37C/46P
    4. Sesame Small with Chicken (steamed) – 410kcal: 13F/44C/26P
    5. Mongolian Small with Chicken- 330kcal: 13F/30C/23P
    6. Thai Dynamite Small with Chicken (steamed): 280kcal: 8F/25C/26P
    7. Lemon Pepper Regular Chicken (steamed): 400kcal: 4.5F/44C/43P
Pei Wei is another gem. They have a steamed option that makes so many of their menu items weight loss friendly! Can we just appreciate this real quick, all of the options above are under 500 calories. The choices there are endless. You can't go wrong with Pei Wei!
Remember- Everyone has a different calorie intake, so this list is subjective. But for the most part, these healthy food options are very weight loss friendly. Also, these restaurants are chains as well, so if you are traveling you can likely find them too. Enjoy!
-Blake Bernstein